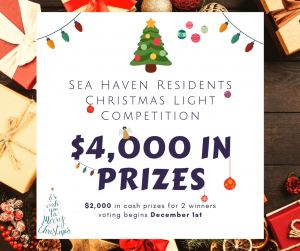 Vote for your favourite house in the Sea Haven Christmas Lights Competition!
Voting begins December 1st with winner announced December 21st (prize information).
Keep an eye on our Facebook page for further information, or feel free to email us at info@kepdev.com.au


ENTRANTS
10 Magnetic Drive – Matt & Angela
7 Adventurer Drive – Bryce & Margaret
8 Magnetic Drive – Michael & Dianne
12 Magnetic Drive – Mark & Christine
23 Havenwood Drive – Murry & Carrol
VOTE NOW!